Tiki Barber & Traci Lynn Johnson Welcome A Daughter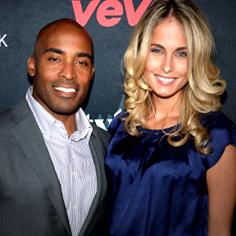 Tiki Barber and his wife of 18 months, Traci Lynn Johnson, are new parents. Their daughter, Brooklyn, was born on Friday, Us Weekly is reporting.
Barber, a former NFL great who was briefly a correspondent for TODAY, has four children by his first wife, Ginny Cha.
He caused a scandal when he left Cha while she was eight months pregnant with twins and took up with Johnson, an NBC intern.
The pair later insisted that they didn't become romantically involved until he was separated and out of his marital house.
Article continues below advertisement
Barber is now a host with CBS Sports Radio.