Exclusive
Timeline Of Trouble: Taye Diggs Caught Paryting With Other Women In Months Before Split From Idina Menzel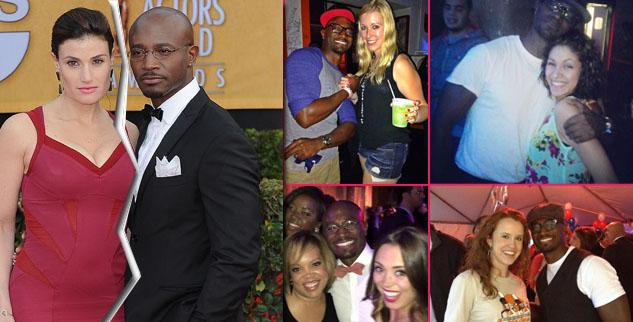 In April of this year, Idina Menzel opened up about going through "tough times" in her ten-year marriage to Taye Diggs. Though the couple insisted things were fine, apparently it only got tougher after that, and they announced they were separating earlier this week. Now, RadarOnline.com can reveal that after a major cheating scandal this summer, Diggs was spotted partying with several other women in the months before his divorce from his wife.
Article continues below advertisement
This summer, Star magazine claimed that Diggs was "spotted getting frisky with a sexy brunette who was not his wife while partying at Emerson nightclub in Hollywood on June 19." Just over a week later, another source told the mag, Diggs was seen "acting like a bachelor" at another Hollywood hotspot on June 30. His rep denied it at the time, but RadarOnline.com has learned that his seemingly single behavior continued for the next several months.
On September 3, Diggs was spotted hanging out on a banquette with Mad Men star Christina Hendricks at the opening night party for Broadway play "Everything Is Ours," which Diggs did not appear in. Happily laughing with other partygoers, Diggs didn't seem to be missing his wife, who was across town at the US Open with her father.
Just over one week later, Menzel was nowhere to be seen again as Diggs chatted and posed for pictures with stunning actress Garcelle Beauvais-Nilon at a pre-Emmys party in L.A. on September 13. Menzel stayed in NYC for a fitting for her new musical, If/Then.
Article continues below advertisement
On October 6, he cozied up to a hot blonde at a "Harry's," a college bar in Syracuse, New York, where he attended school. He was in town for homecoming festivities, and was spotted posing with female fans at the game as well, while Menzel was nowhere to be seen.
And perhaps most shockingly, Menzel was totally M.I.A. at the November 6 premiere of Diggs' holiday film, The Best Man Holiday. He walked the red carpet with sexy co-star Sanaa Lathan, and certainly wasn't hurting for company at the after-party, where he happily posed for photos with a group of gorgeous women, including publicist Michelle Pascal, beauty expert Danielle Gray, singer Taren Guy, and writer Andrea Arterbery. Menzel was in a preview performance for If/Then in NYC.
Back in New York on December 6, Diggs rolled solo yet again as he left a show in New York, stopping to pose with a fan for a quick pic.
Just a few laters, the couple announced that they were calling it quits. "Idina Menzel and Taye Diggs have jointly decided to separate at this time," reps for the couple announced. "Their primary focus and concern is for their son Walker, 4. We ask that you respect their privacy during this time."