Exclusive
Home For The Holidays! Sonja Morgan Dishes On Her Christmas Decorating, Seasonal Specialties, And More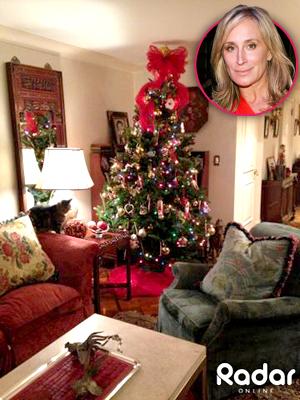 The Real Housewives of New York City star Sonja Morgan is ready for Christmas and has already kicked into full gear with the holiday season.
"For the holidays, I have my mom, my sister, and my two aunts visiting my daughter and I," Morgan told RadarOnline.com exclusively.
They have some special holiday traditions that they love to do as a family.
"We always do a thousand piece puzzle and play scrabble," Morgan said.
Article continues below advertisement
And it wouldn't be the season without some of Morgan's homemade dishes.
"We have a bunch of different meals," she said. "We are having fig jelly with cheddar cheese right now. We had peeking duck. I make it in the toaster oven with orange glaze. I also made turkey soup."
Before her family arrived, Morgan's friends helped her decorate her house.
"My girlfriend Cindy Hussey she came over and helped me decorate with red sparkly tulle," she said. "That was the fun part. We wrapped that around the banister and at the base of the tree."
Morgan also decided to break away from her traditional tree decorating.
"This year we decided to go with color lights," she said. "That's a big decision."
And the ornaments she selected to match the furry members of her family.
"The balls are bronze and gold kind of like our dogs: one is blonde and the other is red," she said.
On top of the decorating and cooking, Morgan has already received a special gift from a friend.
"Edward from The Dog Store dropped in and gave me a new dog with no notice when another client decided to go with two French bulldogs instead of the poodle," Morgan said. "He's peeing all over the house but I love him."
Rouge, the new dog, joins Morgan's other dog Marley and her cat Tigre.