Three Wise Guys: Goodman, Stallone & DeNiro Take On Christmas, SNL-Style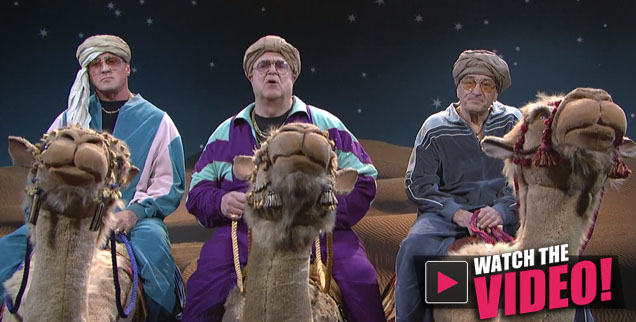 Forget the three wise men, when guest host John Goodman and surprise guests Robert DeNiro and Sylvester Stallone did their version of the Christmas story on Saturday Night Live, the result was laugh out loud funny.
Goodman, in his 13th stint as host, and the two stars of the upcoming movie, Grudge Match, played "three wise guys" from New Jersey and Long Island riding camels on their way to see some kid -- who they predict is "going to be big" - named Jesus.
Article continues below advertisement
Of course, they are taking him gifts, like a New York Yankees onsie, an envelope of cash and a "meatball parm," courtesy of Stallone.
A discussion of their respective camels -- one hump or two -- brings about a revelation from a turban-wearing Stallone
"I make my camel wear shoes," he said straight-faced. "So when I look down, I don't see any camel toe."
And when the guys decide to stop for a meal, they hit up -- you guessed it -- the original olive garden.
MORE ON:
Saturday Night Live
It's pure fun and classic SNL.
youtube=https://www.youtube.com/watch?v=F5QZgoH9bfQ&w=560&h=315