From Oscar To Mirror Ball? ABC Mulling Hollywood Star Renee Zellweger To Helm A 'DWTS' Season Of Academy Award Winners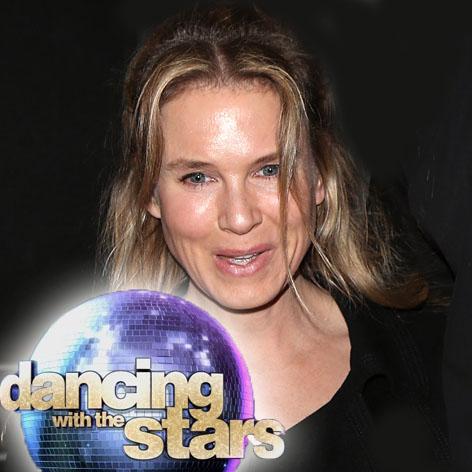 Dancing with the Stars producers are considering Oscar winner Renee Zellweger to compete on the hit ABC reality show next season and head up a group of all Academy Awards winners, RadarOnline.com has learned.
Zellweger, 44, who last was seen dancing in the 2002 movie Chicago, would be "offered mega bucks to do DWTS and compete for the chance of putting the mirror ball trophy next to her Oscar," one production source dished.
Article continues below advertisement
According to the source, DWTS producers plan to pull out all stops for a stunt season as soon as next spring to revise the aging franchise.
One of the main ideas being discussed is an "all-Oscar winners series, that would include former Academy Award winners from all eras," according to the insider.
"Renee, who won the best supporting actress Oscar for Cold Mountain in 2004, is being seen as the lynchpin contestant that would seal the deal for the theme season," they said.
"The producers are fixated on Renee, in part because she hasn't done much dancing at all since Chicago more than ten years ago and there's this real mystery about her and what she's up to.
"They keep raising the amount of money they are willing to give her in the hopes that she'll say yes, and the theory is that if they can get her to sign on, then it would attract some other really prominent Oscar winning stars -- who wouldn't normally do reality TV -- to fall in step."
Article continues below advertisement
DWTS' ratings have recently eroded and this fall, ABC downsized its once-mighty reality show from two nights a week to one.
For the current season 17, which concludes Nov. 26, producers also allowed some celebrities with dance experience, such as High School Musical hottie Corbin Bleu and Showgirls star Elizabeth Berkley to compete on the show.
"Now that the rule that stars had to be total dance novices has been broken, it opens the door wide for someone like Renee, who hoofed it in Chicago, to strut her stuff," the source added.
"The DWTS masterminds think the idea of having a theme of Oscar winners would be a sure ratings-grabber.
"And it would be the perfect springtime ABC tie-in because the network already controls the rights to the Academy Awards show."
Oscar winners Tatum O'Neal and Cloris Leachman have been past DWTS competitors.
Now, the show hopes to land some recent more Academy Awards winners to attract the all-important younger viewing demographic, the source said.