Exclusive
'He Is Damaging Our Children': Bitter Tamra Barney RIPS Ex-Husband For Dating Woman '20 Years Younger Than Him' In New Court Bid To Allow Children To Be Filmed On RHOOC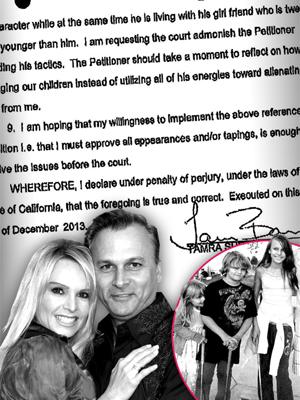 It's gone nuclear. Real Housewives of Orange County star Tamra Barney has blasted her ex-husband as a hypocrite and micro-manager for attempting to block their three children from appearing on the Bravo reality show.
In a new court filing, obtained exclusively by RadarOnline.com, the mother-of-four responded to Simon Barney's EXPLOSIVE court charges that their kids had suffered "consistent embarrassment" due to their mother's behavior.
Article continues below advertisement
RadarOnline.com broke the story: A furious Simon said the couple's eldest children — Sidney, 15, and Spencer, 13 — had experienced "social ridicule" after scenes were aired depicting their mom's "head in naked strippers crotches, sex toys and sexual comments" during the last season of the popular program.
The pair also has another child, eight-year-old Sophia.
Responding to Simon's accusations, Tamra filed a declaration on Tuesday in which she told a California judge: "I am saddened that the Petitioner (Simon) has made it a point to portray me as someone that does not have our children's best interests at heart."
"The Petitioner is constantly discussing these proceedings with our children and manipulating them against me," the reality starlet charged.
"The Petitioner utilizes the majority of his declaration to diminish my character while at the same time he is living with his girlfriend, who is twenty years younger than him. I am requesting the court admonish the Petitioner regarding his tactics. The Petitioner should take a moment to reflect on how he is damaging our children instead of utilizing all of his energies toward alienating them from me."
Article continues below advertisement
EXCLUSIVE DOCUMENTS: Read Tamra Barney's Explosive Court Charges Here
The fiasco began last week when Tamra went to an Orange County court in a desperate attempt to have a judge overrule her ex and allow their three children to be filmed as part of the show.
Lawyers for the Bravolebrity are arguing that under the family code, she should be able to act alone to permit the children to participate in the show, but only during her periods of her physical custody.
In his response, Simon said his ex-wife was "seeking to take away my right to parent and make decisions regarding the lasting effects and impacts the show may have on my children."
He implored the judge to find that any reality television involvement was a "major decision that must be made jointly."
In her new declaration, 46-year-old Tamra, who re-married last year, admitted "there are scenes that are adult oriented" but insisted their children would not be involved in nor exposed to those scenes.
Article continues below advertisement
"Like any other parent, I am able to limit and shield our children from what they watch on television," she said.
"Whether Sophia is on television or not, I am going to be on this show, so I am not sure what basis the Petitioner has to object, other than to be controlling."
Tamra added, "The Petitioner makes numerous adverse references regarding my character in his declaration by highlighting only a small snapshot of scenes that I have been involved.
"From a positive standpoint, I do not have to hold myself accountable to the Petitioner anymore for what I do on my own time.
"I am currently in a happy and "healthy" marriage for the first time in a very long time. My husband and I having 'fun' at a bachelorette/bachelor party is not atypical of what other soon-to-be spouses do prior to getting married. In any event, we do not involve the children in any of these scenes and the Petitioner's self-serving declaration and exhibits verify this fact."
Article continues below advertisement
She revealed that her decision to ask for court intervention came after Sophia "expressed a desire to participate with me" in the series.
"Petitioner attempts, in his response, to fit my request to adhere to Sophia's wishes to film with me into the category of a 'major decision,'" she said.
"This is simply not the case. I don't need Petitioner's approval to allow Sophia to participate with me during my filming under our existing order. Again, it is the Petitioner's threats to the network that have created this situation.
"The scenes that Sophia would be involved in would be family oriented type scenes i.e. like getting ready for school, eating dinner as a family, birthday party, etc.
"The type of scenes mentioned by the Petitioner, which were obviously selected by the Petitioner to portray me in a bad light, would not be the type of atmosphere that Sophia would be exposed. In light of Petitioner's threats, the only types of scenes I am currently involved in are with the other cast members, without our children present."
Article continues below advertisement
Interesting footnote: Tamra — who joined the OC cast in season three blasted Simon for referring to the trio as "his" children throughout his court filing.
"While the Petitioner may not agree, I like to think that this case pertains to "our" children. The Petitioner spends the entirety of his declaration demeaning me. Petitioner's declaration has no vale other than to posture his case," Tamra charged.
Whether or not the children will be allowed to appear on camera will be decided by a judge on December 20.