The Controversy Continues! Philomena Defends Her Art In NY Times Rebuttal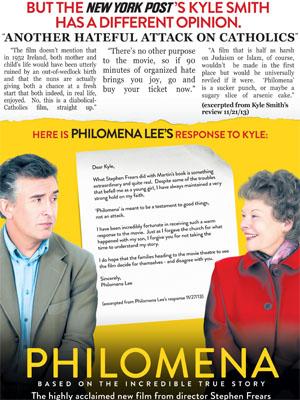 Philomena continues to stir splendid controversy, in so many ways!
After an initial battle with the MPAA, the film, starring the great Judi Dench in the titular role, ruffled the feathers of New York Post scribe Kyle Smith, who dubbed it "90 minutes of organized hate" and a "sucker punch" to the Catholic community.
"A film that is half as harsh on Judaism or Islam, of course, wouldn't be made in the first place but would be universally reviled if it were," Smith wrote, later comparing it to "a sugary slice of arsenic cake."
Article continues below advertisement
In a full page ad in the NY Times Thursday, Philomena Lee herself responded to the scathing review in her inimitable style. Without further ado, we throw it to her …
Dear Kyle,

What Stephen Frears did with Martin's book is something extraordinary and quite real. Despite some of the troubles that befell me as a young girl, I have always maintained a very strong hold on my faith.

'Philomena' is meant to be a testament to good things, not an attack. I have been incredibly fortunate in receiving such a warm response to the movie. Just as I forgave the church for what happened with my son, I forgive you for not taking the time to understand my story. I do hope that the families heading to the movie theatre to see the film decide for themselves - and disagree with you.

Sincerely,

Philomena Lee
Philomena is in theaters now.