New Steubenville High School Sex Scandal, Partygoer Tweets About 'First Degree Rape'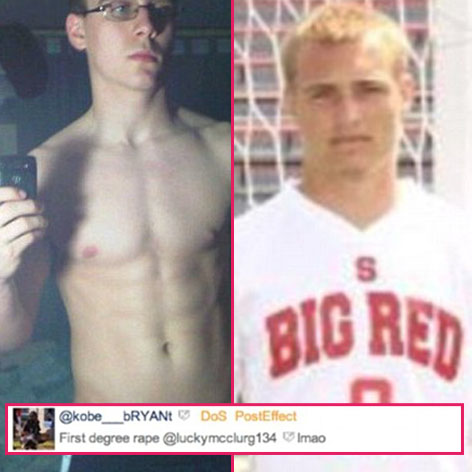 Steubenville High School is at the center of a shocking new sex scandal.
Four months before the infamous assault on an intoxicated teen that resulted in the rape conviction of two students, a separate incident allegedly took place that is just now coming to light.
Tweets posted in April, 2012 by members of the 'Rape Crew' discuss the earlier incident, the MailOnline has uncovered.
The so-called Rape Crew is made up of members of the school's sports teams.
Article continues below advertisement
In one series of tweets about the April incident, baseball player John Linn, wrote: "...I still got a nice buzz now from last night"..."Glad I wasn't involved in all that sick s***."
A retweet of a comment by wrestler Jake Howarth, read: "That one girl's life might be ruined after all that!"
Another tweet read simply: 'First degree rape @luckyMcClurg134 lmao."
In reponse to Linn's tweet: "t wasn't rape they were just making love!!" That got a response from Howarth: "Stfu (shut the f*** up) seriously."
The unidentified alleged victim was just 14 years-old, the MailOnline reports.
Evan Westlake, who was present at the second incident, videotaped it and then testified -- he was given immunity -- at the trial of Trent Mays and Ma'lik Richmond, also tweeted about the newly uncovered earlier party!
"If this was the 70s no one would care how many people were involved," he tweeted.
The girl filed a report with Steubenville City Police last September and the case was handed over to Federal agents, the Mail is reporting, and the investigation remains open. She told of a night in which she drank from a red Solo cup and became intoxicated to such an extent she was unable to prevent the alleged assault from taking place.
One law enforcement official described the account as "strikingly similar" to the high profile Steubenville case that followed just months later.