Megan Fox Shuns Charlie Sheen! Actress 'Wasn't In Favor' Of Husband Brian Austin Green Joining 'Anger Management' Cast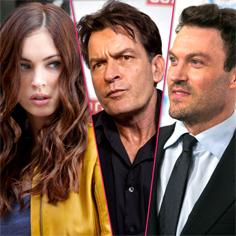 Megan Fox was NOT in favor of her husband Brian Austin Green joining the cast of Anger Management full-time -- because she's wary of its controversial star, Charlie Sheen, RadarOnline.com has learned.
"She has always kept her distance from Charlie Sheen, that is not somebody she wants or needs to associate with," a source close to the family told RadarOnline.com.
Still, the surprise opportunity for Green to join the FX show as a full cast member, playing Sean, the boyfriend of Sheen's character's ex-wife, was a financial boon for the former Beverly Hills 90210 star, who is raising son Noah, 1, with Fox.
Article continues below advertisement
As RadarOnline.com has reported, Green and Fox are also expecting a second child together next year. Green also has another son from a previous relationship.
"The Anger Management money was something that they could not turn down and was guaranteed work for Brian every week for the rest of the year," the source said.
"But Megan is glad that association with Sheen is done now and the job is over for now because it was really hard on the new family. He was working 18 hours days on the show, and that's been really depressing for everybody.
"It basically made her into a single mother, but again, they needed the money," the source noted.