Even Their Lawyer Is Not Real! RHONJ Star Jacqueline Laurita's Friend Indicted For Posing As Attorney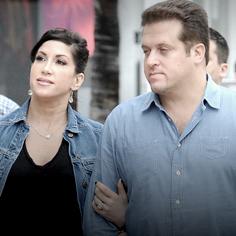 There's more legal drama for the Real Housewives of New Jersey cast members.
According to reports published Thursday, Jacqueline Laurita and her husband Chris' former attorney has been charged with falsely representing himself to police as a lawyer.
Mark J. McGuire, of Franklin Lakes, told Ridgewood police last April he was an attorney representing the RHONJ stars.
Back in April, McGuire spent more than 45 minutes with the Lauritas as they were interviewed by police in April, following their involvement in a bloody brawl at the grand opening of a New Jersey salon.
Article continues below advertisement
But Tuesday's grand jury indictment charges McGuire "did knowingly engage in the unauthorized practice of law and created or reinforced a false impression" to detectives "that he is licensed to engage in the practice of law."
GALLERY: The Giudice's 30 Most Shocking Quotes About Fraud & Finances
McGuire was arrested by police in September, charged with a single count of unauthorized practice of law.
McGuire's next court appearance has not been scheduled yet.