Housewives Catfight Goes Bi-Coastal: Lisa Vanderump Slams Skinnygirl Bethenny Frankel -- Stop 'Trashing Me!'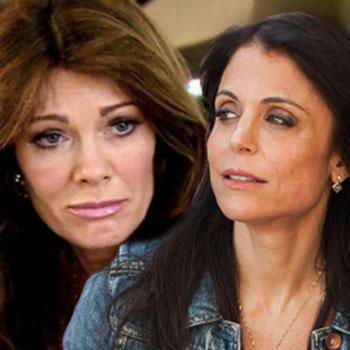 Article continues below advertisement
Unfriendly, the Vanderpump Rules star wasn't so cordial and quickly shot back: "Yes, even though she keeps trashing me!"
She continued to blow off the talk show host, adding: "I don't pay attention… never mind and good morning."
Frankel has not issued a response, but there's definitely a Housewives feud brewing!
It's not clear what spurred the drama, but RHOBH stars Brandi Glanville, Kyle Richards, and Kim Richards have all been airing their dirty laundry about the British reality star on Frankel's talk show.
Most recently, Kim stopped by the show and admitted Vanderpump was never her friend.
"She's just never been a real good friend to me and that's okay, she doesn't have to be. I'm over it. I'm over the things she's done. There are little things that you will see that will happen over this season that her true colors will show," she said.
"She's letting the audience think she's my friend when clearly she was just dragging all my stuff out for the world to see more and more."