LeAnn Rimes' Insensitive & Selfish Message Sent Just One Day Before Her BFF's Mom Dies Infuriates Fans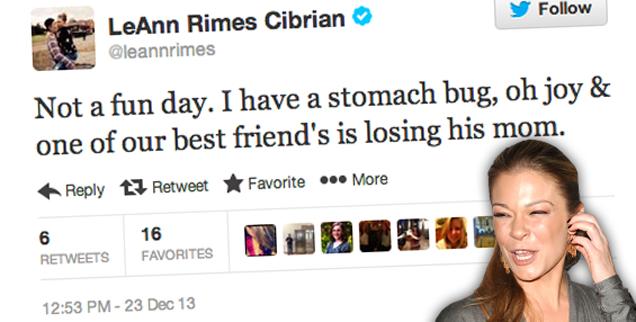 LeAnn Rimes infuriated fans on Monday afternoon when she sent out an insensitive tweet about her friend's dying mother and RadarOnline.com has all the details.
In what's being dubbed "rude", "selfish" and "crass", Rimes wrote that she was having a bad day because she's feeling sick and then almost as an afterthought, mentioned that one of her best friend's mother is dying.
Followers immediately blasted the country singer.
Article continues below advertisement
"and when you have a nasty stomach bug. How rude of your friends mom to die now," @shadester126 sarcastically replied.
Another user wrote, "Wow, how can you insinuate their mother is worth nothing? That's horrible, rude, & not OK."
"I can't believe you put stomach bug and someone losing a mom in the same breath as if they're comparable," user @erinnke wrote.
Sadly, Rimes let followers know that her friend's mother passed away on Tuesday.
Do you think Rimes' first tweet was insensitive? Sound off in the comments below...