Exclusive
Kim Kardashian The Next Beyonce? Kanye West Shoots Down Fiancee's Pop Star Dreams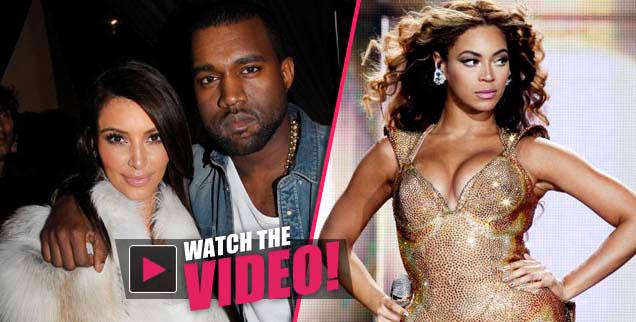 Even though Kanye West believes he and Kim Kardashian will be more a more powerful couple than Beyonce and Jay Z, RadarOnline.com has exclusively learned the new mother doesn't have pop star aspirations, despite numerous reports.
Last week reports surfaced of an interview West did with WGCI radio in Chicago where he was quoted as saying, "I am going to make Kim Kardashian a bigger performer than Beyonce. Me and Kim will soon be the first couple of Hip Hop" -- but that interview never happened and the pompous rapper never said that quote.
Article continues below advertisement
In a new interview with Saturday Night Online, West denies that Kim would ever want to delve into his industry of music, and RadarOnline.com has the exclusive video clip.
"With 'Bound 2' you got to work with Kim. She turns to you and says, 'I wanna work on music.' Would you help produce that project?" the host Garrett asks West.
"I don't think she has any desire to do it," West concedes.
As RadarOnline.com previously reported, Kim may not want to vie with Beyonce for record sales, but West thinks he and the mother of his baby will "be the biggest power couple on the planet."
"He genuinely thinks they will be more popular than his close friends, Jay Z and Beyonce," a source close to West told RadarOnline.com.
"It's one of the reasons why Kanye told Kim to change her hair color, he thinks it elevated Kim from just being a reality star to an international superstar."
So although Kim doesn't plan to release an album any time soon, let's not forget this gem she released in 2011…