Kim Kardashian Pays Moving Tribute To Nelson Mandela, Then Tweets Keek Video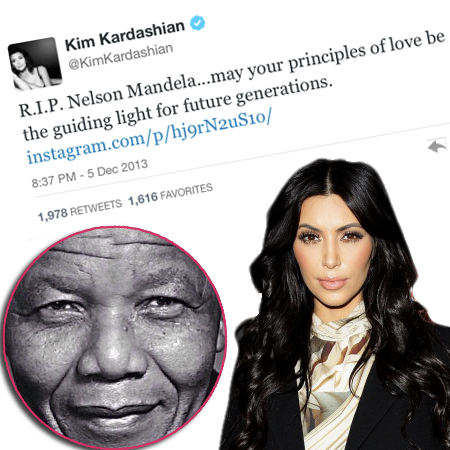 Who said Kim Kardashian can't get poignant?
The socialite was among the rich and famous paying tribute to the great Nelson Mandela in the wake of his death Thursday.
"R.I.P. Nelson Mandela...may your principles of love be the guiding light for future generations," Kim wrote on Twitter, attaching a pic of the late leader. Kardashian, in New Orleans for fiance Kanye West's concert, later uploaded a Keek video in which she blew kisses to the camera.
Article continues below advertisement
Also grieving for Mandela was Kim's mother Kris Jenner, who wrote on her feed: "Do not judge me by my successes, judge me by how many times I fell down and got back up again.' - Nelson Mandela. #rip."