Exclusive
Pregnant & Betrayed: Did Kelly Clarkson Secretly BLAST Cheating Rumors?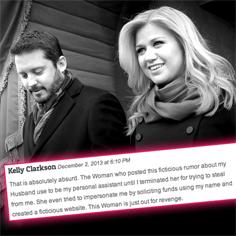 Kelly Clarkson isn't exactly known for her restraint of tongue. But is the spitfire singer already speaking out about the rumors that her new husband, Brandon Blackstock, cheated? A comment under Clarkson's name was posted on a story about Blackstock's rumored affair about TheDirty.com on Monday, and when asked about the post by RadarOnline.com, her rep refused to deny it was from her.
"This is absolutely absurd," the comment, posted by "Kelly Clarkson" on the story of Blackstock's alleged adultery read. "The woman who posted this fictitious sic rumor about my husband use sic to be my personal assistant until I terminated her for trying to steal from me."
Article continues below advertisement
"She even tried to impersonate me by soliciting funds using my name and created a ficticious sic website," the post continued. "This woman is just out for revenge."
Whether or not the commenter is truly Clarkson, they're not the only person speaking out to slam reports of Blackstock's wandering eye.
As RadarOnline.com exclusively reported, his ex-wife, Melissa Ashworth, has called the rumors "silliness" and said, "I adore Kelly and Brandon as a couple, so if I say anything it's going to be positive."
When asked about the rumors, a rep for Clarkson told RadarOnline.com, "We do not comment on our artists' personal lives."
The cheating scandal couldn't come at a worse time for Clarkson, who is struggling through the first trimester of her first pregnancy. She recently postponed overseas promotion for her new Christmas album, claiming to be "incredibly ill," and told Carson Daly on The Voice Tuesday night that she's "been better" and is "looking forward to the second trimester," when her morning sickness will hopefully abate.