From Chick-Fil-A To Cheeky! Kandi Burruss Shows Off Bathing Suit Body After Kenya Moore Ripped Her Eating Habits On RHOA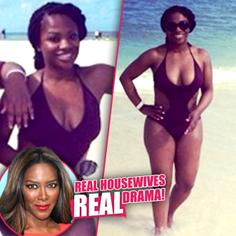 Article continues below advertisement
The music producer and Kandi Factory star tweeted it out the next day, writing, "Yesterday at the beach!" on a photo of herself in a revealing black hourglass shaped one-piece bathing suit.
Burruss' fiance, RHOA producer Todd Tucker, and her famously disapproving Mama Joyce were noticeably absent at the beach day.
But as RadarOnline.com readers know, Burruss is locked in a bitter feud with Moore as the beauty queen continues to take potshots at her eating habits.
When the housewives went on a bonding road trip to Savannah, Ga., on last Sunday's episode, Moore laughed when Burruss ran up the stairs of their lavish bed and breakfast mansion to claim the best room.
"I don't know what got into Kandi. Maybe she smelled some Chick-fil-A or a burger upstairs," Moore sniffed.
That followed hot on the heels of the previous episode, in which Moore told Burruss she could "afford to skip a few meals" after stopping at Chick-fil-A.
After getting public backlash, Moore backtracked on the comments, writing on her Bravo blog, "I made a wise crack. Kandi knows I think she has a great figure, so I'm sure she laughed as we have together about the 5-10 pounds she wants to lose."
And Burruss appears to be showing Moore who should get the last laugh!