Exclusive
Jackson Family Offered 10-City Reunion Tour -- Millions On The Table!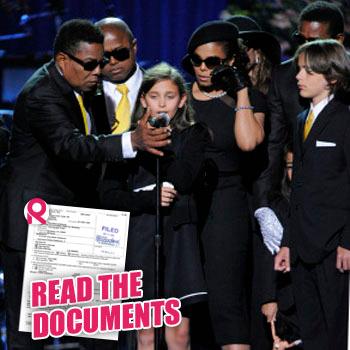 Article continues below advertisement
If all parties agree to the terms of the contract, they stand to make a $1 million deposit each and 40% "of the net income generated from the commercial exploitation" of the company.
In a letter dated Dec. 10 to Jermaine from AllGood's CEO, Patrick Allocco, he reveals that a deal was already in the works for a Jackson reunion tour before Michael's tragic death in June, 2009 — which may be appealing to the family now given their current financial state.
"As you know, we made an offer in 2009 and I've received the go-ahead to put forth the same offer as we understand the family may be undergoing temporary financial hardships and know that this tour is the way out of it forever," Allocco wrote.
"Our offer is for ten cities in the U.S., an option for 10 cities in Europe plus we have additional offers for Australia (Jan. 2 in Melbourne ), Beijing, Shanghai, Tokyo, Hong Kong, Guangzhou and Seoul."
Article continues below advertisement
And it sounds like the Jackson family may have several offers on the table!
"This past weekend, one of our 'honest brokers' told me that there was a private meeting between four of the five brothers and a London based promoter who was bringing $4 million in cashier's checks to each family member for a 10 city tour of the U.S., Europe and China," Allocco revealed.
"I have my reasons to doubt the veracity of that statement."
READ: MJ's Secret Diary Bares Desire To Be 'Immortalized' & 'The Greatest Ever'
Included in the 16-section agreement are clauses that state the Jackson family will "be responsible for arranging and providing, at Artists' sole expense:
(a) each Entertainer's, each Sideperson's, and the Entourage's intercity and intracity transportation to and from the city and specific venue of each Event, including without limitation ground transportation to and from airports, to and from hotels, and to and from Event venues, as well as any extraneous interim travel.
"(b), all of Artist's, each Sideperson's, and the Entourage's hotel accommodations, food, and related services."
Not mentioned whatsoever in any of the contracts for pitches is Jackson patriarch Joe, who has been working to release a documentary titled The Architect — but it's on hold because film distributors "despised" the focal point of the piece.