Hayden Panettiere & Vladimir Klitschko Lend Support To Demonstrators In His Native Ukraine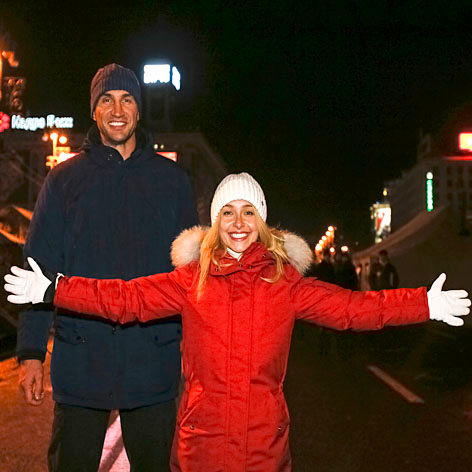 Hayden Panettiere left Nashville for the Ukraine to lend support to protestors who want their country to have closer ties to the European Union, instead of to Russia.
The actress/singer is engaged to Vladimir Klitschko, a Ukrainian heavyweight fighter, and the two traveled together to Kiev on Saturday, wading into the midst of the demonstrations.
The demonstrators are furious with their government for its decision to ditch a pact with the European Union in favor of a trade deal with Moscow, Ukraine's Soviet-era overlord.
Article continues below advertisement
On Sunday, they even toppled an iconic statue of Lenin, that had stood for years in a square in Kiev, smashing the image to bits with hammers.
Visiting with the protesters in Independence Square, the activist actress told them to "keep fighting" and she proudly tagged her pic with Klitschko as #Frontlines.