Breast Milk Is Best! Gisele Shares Pic Where She's Feeding Her 1-Year-Old Baby Naturally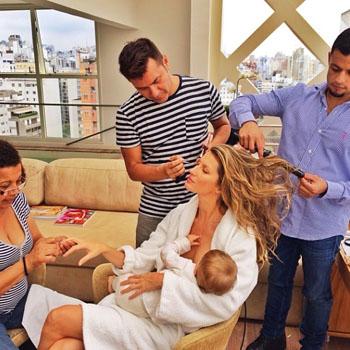 Gisele Bundchen is such a fervent supporter of breast feeding that she once said it should be the law and she proved that she does it herself by posting a picture where she is nursing her young daughter Vivian Brady.
Tom Brady's supermodel wife posted the picture while she gets her hair and makeup done.
where she's wearing only a white robe pulled to the side so her baby could breast feed and wrote: "What would I do without this beauty squad after the 15 hours flying and only 3 hours of sleep #multitasking #gettingready"
Article continues below advertisement
Gisele enraged mothers around the world with her statement about how children should be fed, saying: "I think there should be a worldwide law, in my opinion, that mothers should breastfeed their babies for six months."
She showed off that she is more than good for her word, with Vivian, who celebrated her first birthday on December 5, sweetly holding onto a gold necklace around her mommy's neck while she calmly feeds.