The Sexy Life! Nude Pics Of 'Zack & Cody' Star Dylan Sprouse Leak Online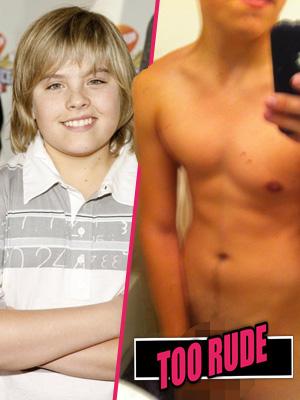 Demi Lovato, Vanessa Hudgens -- now, add Dylan Sprouse to the list of Disney stars whose naked images have found their way online.
Racy images of Sprouse, of The Suite Life of Zack & Cody fame, surfaced online after an ex girlfriend reportedly posted them to Tumblr.
The ex-child star, now 21, was rather stoic regarding the leak, tweeting "I messed up…but I'd be a fool not to own up to it.
"Got to move past it I suppose … whoops, guess I'm not 14 and fat anymore."
Article continues below advertisement
The star's twin brother Cole, who also appeared on the how, ribbed his brother by asking him if it was "cold in that bath-room, huh?"
"Love you too," replied Dylan, who played Zack Martin on both The Suite Life of Zack & Cody and Suite Life on Deck, and had a key role in the Adam Sandler film Big Daddy.
"Thanks for making me laugh through all of this," Sprouse, who's currently attending New York University, wrote to his followers.
Sprouse posted a lengthier explanation on his Tumblr, insisting, "First off, I will state that the reason I'm making light of the situation is because I don't think what I did was wrong. To be blunt, I was proud of my progress in the gym, thought I looked hot, and wanted to share it."
The problem, he says, is that he chose the wrong person to share it with, blaming his "misplaced trust" for the whole brouhaha. Still, Sprouse says, it all worked out for the best: Since the photos leaked, he says, he's gained 200,000 followers on Twitter, 40,000 on Tumblr and 20,000 on Instagram.