Exclusive
DJ Pauly D Wants FULL Custody Of Love Child: 'He's Concerned For His Daughter's Safety,' Pal Reveals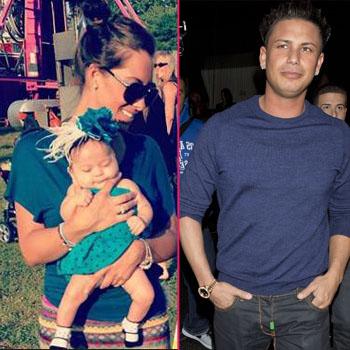 Pauly D is concerned for the safety of his six-month-old daughter, after domestic violence allegations surfaced about the child's mother, RadarOnline.com has exclusively learned.
The Jersey Shore star is still battling for custody over Amabella with Amanda Markert, a woman with whom he had a fling in summer 2012, and intends on turning to the courts to make sure he's granted regular visitation.
"He has a court date set and hopes the judge will mandate custody time," a source told RadarOnline.com.
Article continues below advertisement
"Pauly has been trying to set up a second meeting with his daughter, but Amanda's attorney keeps denying him a visit."
That could all change though, now that Markert's ex, Lance Gerbino, has come forward alleging that she has a history of violence, the source said.
"Pauly is very concerned for his daughter's safety and doesn't want her in a violent environment," the insider said, adding that Pauly has filed for full-custody.
Needless to say, it has been very frustrating for the new dad; RadarOnline.com caught up with Pauly at a charity event on Nov. 21 — 15 days after he met Amabella for the first time.
"We're working on the second visitation now. I really want to see Amabella in time for the holidays," Pauly told RadarOnline.com in an exclusive interview.
"I'd love to get her either Christmas Eve or Christmas Day," he said. "I want to see her as much as possible, but it's a process."