Exclusive
Baby Mama Drama! Pauly D May Not See Daughter Until Christmas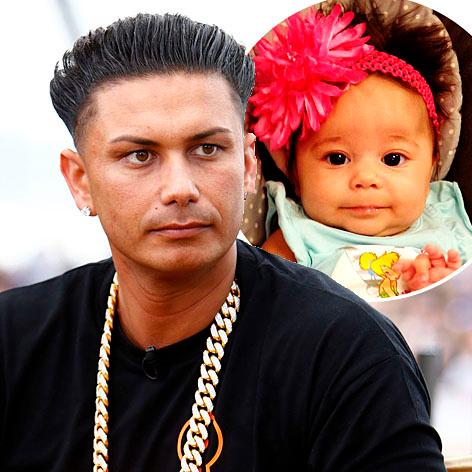 Pauly D has one wish this holiday season -- to see his his 5-month-old daughter Amabella for Christmas.
The Jersey Shore star was finally able to meet his daughter for the first time earlier this month -- but his contentious relationship with Amabella's mother has forced him to turn to the courts to make sure he's granted regular visitation, RadarOnline.com has learned.
"We're working on that now. I really want to see Amabella in time for the holidays," Pauly told RadarOnline.com in an exclusive interview, noting that his second visit likely won't happen until after Thanksgiving.
Article continues below advertisement
"I'd love to get her either Christmas Eve or Christmas Day," he said at the F*ck Cancer New York City Charity Event on Nov. 21. "I want to see her as much as possible, but it's a process."
As RadarOnline.com previously reported, Pauly and Amanda Markert remain locked in a bitter custody battle.
Sources told RadarOnline.com that Pauly will file for full custody.
Amabella currently lives in New Jersey with her mom, an ex-Hooters waitress who had a one-time hookup with Pauly D in Las Vegas last year.
The MTV star and the baby's mother finally agreed to meet at an undisclosed location in New Jersey on Nov. 6.
Speaking to RadarOnline.com, Pauly couldn't stop gushing about meeting little Amabella.
"I was nervous until I saw her face. When I saw her eyes light up and her arms reach out for me, it was an amazing feeling," he said.
Pauly plans to spoil his daughter and is buying lots of gifts for her first Christmas.
"She's got to be fresh like her daddy. Dressing a little girl is cool. I never thought I'd have to do that, but it's amazing. I find myself shopping online all day for her," he said.