Exclusive
Beyonce & Lady Gaga Bury The Hatchet? Producers Want Pop Stars To Perform At 2014 Grammys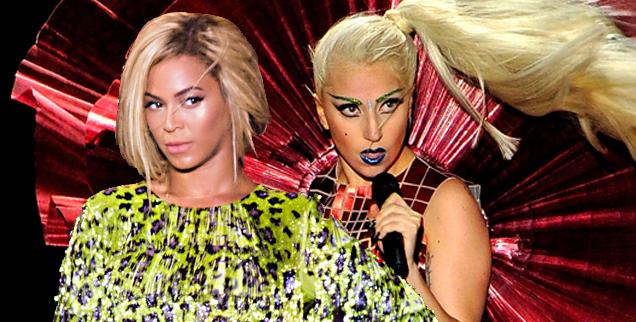 The 2014 Grammys promise to be the mother of all awards shows!
That's because pop music's three biggest divas — Katy Perry, Beyonce and Lady Gaga — are all wanted as headliners, a production source has revealed to RadarOnline.com.
And surprisingly, although Beyonce and Gaga were rumored to be feuding, the ladies could agree to play nice in order to make next year's event a powerhouse show!
"The trio are all looking to avoid cat fights and turf wars by agreeing to each perform the same amount of time--six minutes," the insider dished.
Article continues below advertisement
"And they're not planning any special duets or group performances. They plan to each have their moment to shine and steal the show. They're going to get that chance and music fans are sure to be thrilled!"
The National Enquirer reported that although Beyonce and Gaga teamed up on the hit "Telephone," things have been frosty between them because Mrs. Carter thinks the other pop star's outfits are too over the top.
The magazine said Gaga then dismissed Beyonce as a "hater."
The source said the singers haven't been on speaking terms since their collaboration on Gaga's last record, but they're setting personal feelings aside for the big Grammy show, which will air on January 26, 2014.
Meanwhile, a fourth diva, Miley Cyrus, who has made major noise with her wild performances this year, is holding back on performing at the Grammys for now, we've learned.
"Her album Bangerz isn't the kind that gets a lot of nominations, so she's planning accordingly," the source explained.