Exclusive
That's One Kind Stepmother-In-Law! Barbra Streisand Helps Diane Lane In Divorce From Josh Brolin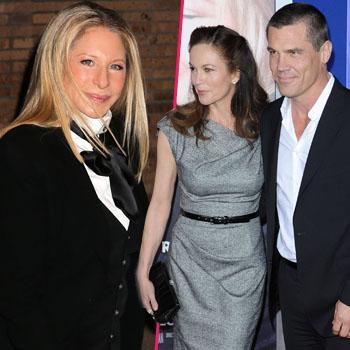 Barbra Streisand made Josh Brolin and Diane Lane's just-finalized divorce one of the smoothest ever, RadarOnline.com has learned.
Although Streisand is married to Josh's father, James Brolin, "She made it clear she would help Diane get everything she needed in her split from her own husband's son," a source revealed.
Both Josh and Diane have grown children from previous marriages and the source noted, "Barbra made it clear the divorce needed to go smoothly for the sake of the kids."
Article continues below advertisement
But no one was laughing in 2004, just four months after his marriage to Lane, when Josh was arrested for spousal battery. The actress called police claiming Brolin had hit her but she didn't press charges.
This November, as RadarOnline.com reported, Josh checked himself into rehab.
According to the source, Josh was approached to play the Batman role in the upcoming Man of Steel sequel that Ben Affleck eventually got.
But Josh turned it down because Lane is reprising her role as Clark Kent's mother in the movie.
"He didn't want to make Diane uncomfortable," the source revealed.
"They're really going to be fine as a divorced couple--Josh admits he's too much of a 'bad boy' to be married to one woman and Diane and Barbra and even his father Jim agree completely," the source said.
"This divorce decision was really the best for the whole family."