Music Bust-Up! Ariana Grande & Nathan Sykes Split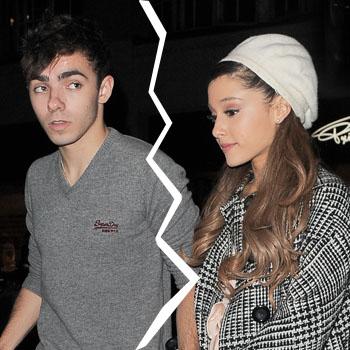 Ariana Grande and Nathan Sykes have split up because they are no longer into each other.
The couple, who went public with their romance in September after releasing their duet 'Almost Is Never Enough,' broke up a few weeks ago as their relationship had run its course.
A source said: "They just weren't into it anymore."
The 20-year-old 'The Way' hitmaker previously gushed about the "amazing" The Wanted singer, 20, and recently insisted it wasn't "tough" for them to spend time together despite their busy schedules.
Article continues below advertisement
She told the February 2014 issue of Teen Vogue: "It's not as tough as people would think. We have the same music manager, so we can see each other's schedules and plan little trips as often as we can."
But a source close to Nathan said they "hardly ever saw each other" and are currently on a break.
Ariana hinted all was not well between them last week during a radio interview with Florida's 93.3 FLZ.
When asked about their relationship, she said: "You're a little behind. We're really good friends."