Yolanda Foster Blasts Real Housewives Costars Kim & Kyle Richards: They're Jealous And Insecure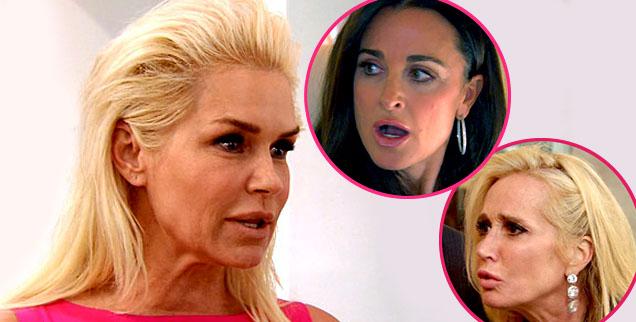 Stuck in the middle of a nasty cat fight, Yolanda Foster dug her claws into Kim and Kyle Richards, slamming the sisters' integrity, RadarOnline.com has learned.
Yolanda didn't hold back when dishing about the sisters, namely Kyle, who called her a "liar" during the Real Housewives of Beverly Hills season four premiere.
"Obviously there are a lot of unresolved issues within this group. I cannot fake, make nice, or even pretend nothing ever happened between the Richards sisters and I. They insulted my integrity and they continue to do so," Yolanda vented on her Bravo blog.
Article continues below advertisement
"I always wonder, what drives women like that? I assume the sad answer is insecurity and jealousy," she added.
The unresolved feud began during a chat with Lisa Vanderpump, when Kyle revealed that she thought that Yolanda is a liar.
"When I look at Yolanda, never would I associate her with being a liar," Lisa told Kyle.
Kyle responded: "Really? Well, I do… because I know and she knows. That's my issue with her. I know the truth, Kim Richards knows it, and Yolanda knows the truth."
MORE ON:
The Real Housewives of Beverly Hills
Yolanda continued to vent about the incident in her blog.
"I don't particularly care for the way she spoke to me and repeatedly told us how to behave at an afternoon of adult women's gymnastics. I just don't agree with her lack of wanting to resolve issues, but rather choosing to swipe them under the carpet and fake OK for the day!
"I certainly wasn't trying to be rude; I just have a strong need to communicate on a deeper level to get clarity. I had hoped to resolve some issues by the end of the afternoon so that we could finally move on but I guess we continue this superficial bulls--- for a little while longer," Yolanda wrote.