Virginia State Senator Creigh Deeds Critically Injured After Being Stabbed By Son: Report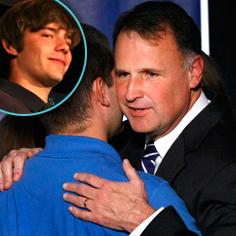 Virginia State Senator Creigh Deeds is in critical condition at the University of Virginia Hospital in Charlottesville after he was stabbed at his home.
The politician's son, Austin "Gus" Deeds, reportedly stabbed his father before fatally shooting himself, WRC-TV reports.
The incident happened in the older Deeds' Bath County home Tuesday morning, where police were called at 7:25 a.m.
"The news from this morning is utterly heartbreaking," said Virginia Gov. Bob McDonnell.
Article continues below advertisement
"Creigh Deeds is an exceptional and committed public servant who has always done what he believes is best for Virginia and who gives his all to public service."