Getting Scared? Teresa Giudice Hires Crisis Manager After She And Hubby Are Slapped With More Fraud Indictments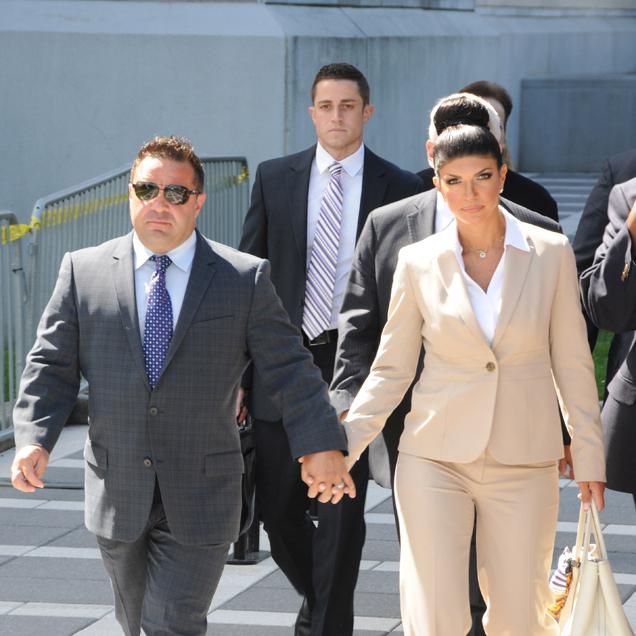 Although Joe and Teresa Giudice maintain their innocence, the couple is showing signs of cracking by hiring a crisis manager.
Facing 50 years in prison for a combination of fraud charges that now total 41 counts (two were just addedon Monday) including conspiracy to commit mail and wire fraud, bank fraud, lying on loan applications and bankruptcy fraud — the Real Housewives of New Jersey star has hired help for her Feb. 24 trial.
Article continues below advertisement
"I'm her legal coach and crisis manager," Wendy Feldman of Custodial Coaching told Us Weekly.
"I have not been hired to prepare either Teresa or Joe Guidice for prison. In fact, most of my work is well-known as crisis management oriented. In addition, I am known as director of alternative sentencing at Cliffside Malibu where Ms. Lohan recently was. However, I am acting as the legal coach and crisis manager only for Teresa Giudice."
As mentioned, Feldman has also advised troubled starlet, Lindsay Lohan.
According to Feldman's website, she will "separate fact from fiction and prepare you and your family for life while in the criminal justice system" and will take "the fear and mystery out of going through the criminal justice process."
Teresa, 41, and her husband Joe pled not guilty Wednesday morning to the latest fraud charges against them in a New Jersey federal court.
The new charges are stemming from a $361,250 mortgage loan that Teresa obtained in 2005 in which Joe allegedly falsely stated that Teresa was employed as a realtor with a monthly salary of $15,000.
GALLERY: The Giudice's 30 Most Shocking Quotes About Fraud & Finances
Teresa was in fact unemployed at the time, prosectors alleged.
Each of the new charges carry a maximum penalty of 30 years in prison and a $1 million fine.