Catwalk Catfight! Victoria's Secret Model Jessica Hart Disses Taylor Swift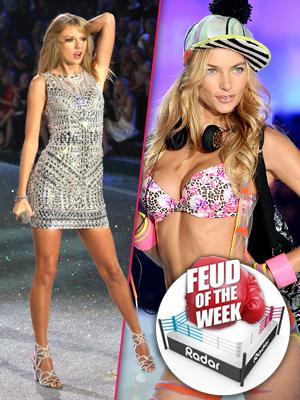 Taylor Swift may have come home with a bunch of new model besties after performing at Victoria's Secret's annual fashion show, but one model thought the singer was out of place: Australian bombshell Jessica Hart.
When asked if the leggy "I Knew You Were Trouble" singer could "pull it off as a Victoria's Secret radaronline.com/category/tags/victorias-secret model," Hart replied bluntly, "No."
"I think, you know what, God bless her heart. I think she's great," the runway model told WWD.
Article continues below advertisement
"But I don't know, to me, she didn't fit. I don't know if I should say that."
Too late!
"I think what you find is that for a lot of us, we've been working for 14, 15 years; what it takes to make it here comes from experience and confidence and knowing how to be confident with yourself. I think it comes with age. It's definitely the benchmark of all jobs," Hart added.
As RadarOnline.com previously reported, Swift performed "I Knew You Were Trouble" during the show's finale and boogied alongside the lingerie-clad models onstage. (She also joined Fall Out Boy during the opening sequence of the runway event.)
Despite the diva diss, Swift did become friends with some new model pals, including Karlie Kloss. The twosome bonded over Kloss' new pixie haircut.
"I met Taylor Swift last night, and she said, 'Ohhh, I want to cut my hair. Karlie, if you see me in a few months with that haircut, know it's because of you,'" Kloss revealed to RadarOnline.com.