Exclusive
Richard Simmons Gone Wild! Fitness Guru Caught Dancing On A Table At Posh Palm Springs Restaurant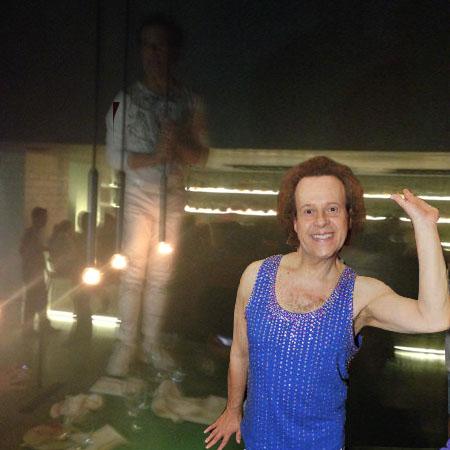 Fitness diva Richard Simmons isn't exactly known for being a shrinking violet. But the rhinestoned workout queen still managed to shock onlookers with his over-the-top behavior when he hopped on a table and started dancing during dinner in Palm Springs this weekend.
Simmons rolled up to the high-end Workshop Kitchen + Bar with about twelve friends and no reservation, an insider tells RadarOnline.com exclusively. "The owner was able to accommodate them at a long communal table in the center of the restaurant," says the source.
Article continues below advertisement
And before long, Simmons took advantage of the location and decided to make himself the center of attention. "He jumped up on the table and started dancing," the eyewitness says. "It wasn't like twerking or anything like that. Honestly, it was more like some weird kind of tae kwon do."
"The restaurant was packed but it basically shut down when people realized what he was doing," the source says. "Everyone stopped talking and was just staring at him."
Yanking on the custom lighting design by Beirut's PS-Lab, Simmons was clearly making staff nervous, says the source, but he soon clambered back into his seat.
Was he dancing for his supper? The source says that when the bill came to his table, Simmons' party feigned disbelief. "It was a $1400 bill and one of the people with Richard kept saying that it obviously should be comped," the source says. "It was pretty shocking that they would expect that to be covered, but I think they worked something out with the owner.
Beverly Hills-based Simmons had made his sojourn to Palm Springs to appear at the Boo2Bullying events during Greater Palm Springs Pride weekend, including a fundraiser at local hotspot Bar, where he also left before paying his bill, according to a source.
UPDATE:
Simmons tells Radar exclusively, "I was in Palm Springs to do a fundraiser for Boo2Bullying and I was asked out for dinner. I took pictures with the owner and most of the customers. I went into the kitchen and thanked everyone. The bill was paid and the waiter was tipped nicely. I was a waiter in the '70s in Los Angeles so I always tip well. I pay my way all the time. I want people to make a living."