Greedy: Princess Di's Brother Rents Out Estate Where She's Buried -- For $40K-A-Night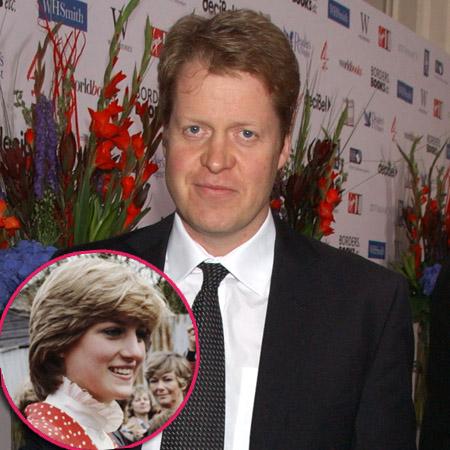 Earl Charles Spencer, the brother of the late Princess Diana, has raised a few eyebrows as of late with his ambitious turn toward tourism.
Spencer, 49, is renting out the property Di used to live in -- and is buried at -- on the Althorp estate in Northamptonshire, England. The fee? A whopping £25,000, which converts to $40,175 in U.S. currency, the Sunday People reported.
Travel outlet Condé Nast Traveller, which profiled the property, said as many as 50 people can bed down at the estate concurrently.
Article continues below advertisement
"It does not get much grander than this," the outlet reported. "Seat of the Spencer family and ­childhood home of Diana, Princess of Wales, the property has a series of ­staterooms, a library and a ­picture gallery that can seat 200 for dinner. Sleeps 50, from £10,000 per week."
Other optional amenities for sale with the package include a five-course meal, priced at £300, or $478 per person; and a bed and breakfast, valued at £500, or $796 per person.
Simone Simmons, a friend of the late princess, was critical of the Earl's attempts to monetize the property.
"The earl closed Althorp to the public because he didn't want to exploit his sister's memory but he's doing much the same by renting out rooms," Simmons said. "By staying there, people are simply helping him make money."
---
UPDATE: A spokesperson for Spencer tells Radar, "1976 was the first year that Althorp was actively and publicly marketed for commercial visits, with overnight paying guests in all available and suitable bedrooms, by an agent. This business has therefore been on-going for 37 years. Althorp has been available on the same basis ever since, through various agents, who have advertised such availability as they see fit – through literature, at trade fairs, and on the internet (since it became a common marketing tool – i.e. in the last few years). This form of client access is accepted practice for many owners of Britain's historic houses, who do their best to maintain the nation's and their family heritage, as you can see from the websites of many of those homes, and the agencies that represent them."