'I Didn't Want To Be A Lesbian,' Portia De Rossi Opens Up On Being Mrs. Ellen DeGeneres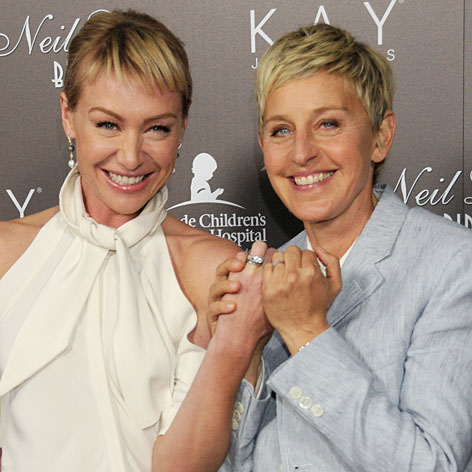 She's just celebrated her fifth wedding anniversary with Ellen DeGeneres, and now Portia de Rossi is opening up on coming to terms with being gay.
"I just didn't want to be a lesbian," de Rossi says in an interview on The Conversation with Amanda de Cadenet.
"I'd never met one for a start and I just thought they were strange and that they hated men and they were very serious and I had these ridiculous images in my head and there were no out celebrities or politicians or anybody that I could look to and go, 'Oh, I could be like that.' There was nobody that I could say, 'I could date her and I want to be like her.' I just kind of thought I don't want to live like this. I don't have to, I don't need to, I just shut down the emotional life," she told de Cadenet.
Article continues below advertisement
Her confusion and unhappiness came to a head while she was starring on the TV series, Ally McBeal, from 1997 to 2002.
"I didn't like people thinking of me as a sexual being, and I was just terrified that people would know that I was gay," de Rossi says.
It lead her in to a horrifying few years of an eating disorder, with her weight plummeting to 82 lbs. and then blowing up to 168 lbs.
It all began to turn around when she met DeGeneres backstage at an awards show in 2004. De Rossi came out as gay a year later,
"For me being honest about who I was, coming out, being gay, starting to date, that was a huge turning point for me, because I realized without changing my life, there was no point in changing the way that I ate," the Arrested Development star says.
De Rossi and DeGeneres wed on August 16, 2008, becoming Hollywood's most high-profile same sex couple.