Exclusive
Never-Before-Seen: Rob Pattinson's Girlfriend Dylan Penn Pictured In High School, As Pals Reveal Fears He Could Break Her Heart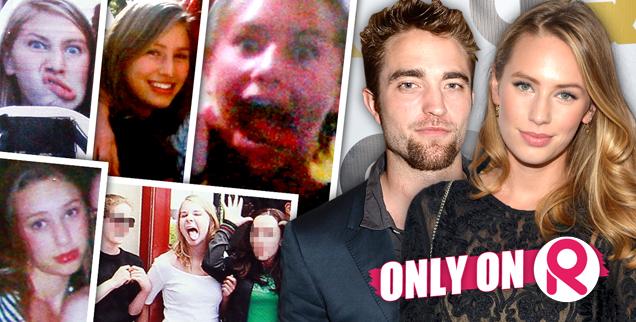 Long before Dylan Penn made headline as Robert Pattinson's fling, the fresh-faced teenager channeled Miley Cyrus, sticking her tongue out in exclusive photographs obtained by RadarOnline.com.
Penn and the Twilight star where photographed together in West Hollywood's famous Viper Room in September and have since been spotted at a private party in Los Angeles in early November.
But yearbook pictures of the A-lister-in-waiting and daughter of Sean Penn and Robin Wright, show the now 22-year-old as a high school student hanging out with friends, posing in formal clothes and relaxing on campus.
Article continues below advertisement
A photo collage made by Penn's friend shows snapshots from her school days, giving a never-before-seen look at her younger years. One photo shows her dressed up and posing for a formal event, another picture has her making funny faces and a third shows her leaning in close to a boy in a baseball cap.
The gorgeous blonde, who bears an uncanny resemblance to her mother, enjoyed a relatively normal upbringing before deciding to follow her parents into showbiz.
Penn attended the ultra-exclusive Marin Academy in Northern California, which has also educated George Lucas' children and relatives of legendary heartthrob Robert Redford.
The $35,000–a-year institution boasts a liberal arts teaching style that sees more than 99% of students going to the best colleges in the United States, such as Harvard and Yale.
"It is definitely not cheap to get educated here, but everyone gets an amazing education and ends up getting into a really good university. The Penns kept themselves to themselves and didn't really get involved in the parents council and things like that," one parent at the school said.
Article continues below advertisement
"They were very low key and let the kids do their own thing."
Dave Capper, whose son Mickey went to school with Penn, said: "She was a good kid, very popular with everyone. She was a good looking girl and had lots of friends. I am sure they will all be proud if she becomes a big success."
After attending the exclusive University Of Southern California, which boasts Arnold Schwarzenegger and Maria Shriver's son Patrick among its current student body, Penn left before completing her studies in history to launch a career in modeling and acting.
"We would see them a lot as they went to school. They would come in and look at bike stuff," local bike shop owner Donna Doran said.
"Dylan loved petting our dog Cona. She was a very polite girl, and the whole family were very nice. We would see her mother all the time dropping off the kids at school, and they would occasionally turn out for community events. There are a few celebrities who live in the area, and once you get over seeing them the first couple of times they just become normal people. The whole community will be really excited if she makes something of herself."
Article continues below advertisement
It's no surprise that Penn's famous family and striking good looks drew attention from her schoolmates.
Her old school friend Evan Burke, 21, recalled, "She was a really popular girl at school. She was friendly to everyone and really laid back. A lot of people were interested in her because her parents were big stars, but she didn't act like she was anyone special and was just really nice to everyone."
And the bubbly blonde didn't go unnoticed by the boys in school.
"Lots of the guys had a crush on her, but everyone was scared of asking her out because no one wanted to go to Sean Penn's door to take her out on a date," Burke said.
"But she didn't really seem interested in dating anyway, she was more into her studies. Dylan was really creative and was interested in drama, so I'm not surprised she is going into acting. I'm hoping she does really well."
Article continues below advertisement
And in a dream come true, it turns out Penn was a huge Twilight fan when it first released in 2008, so the irony of having a romance with Pattinson isn't lost on her old schoolmates.
"She was a massive fan of Twilight, so she will be the envy of all of her friends after landing Edward Cullen," a friend said.
Although Penn was spotted just last week holding hands with Vampire Diaries starSteven McQueen during dinner at LA's Dan Tana's restaurant with her dad Sean, pals are still holding out hope it will work out between her and Pattinson.
"We are all hoping he is the one for her and does not break her heart, because she is such a lovely and sweet person," a friend said.
"She is a real beauty, so I would definitely say she is in his league if not even higher."