Exclusive
Michael Jackson Estate Wants Conrad Murray To Shut Up! Issues 'Cease And Desist' Letter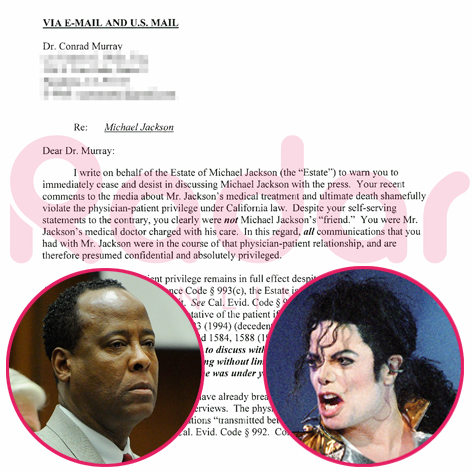 The estate of Michael Jackson is fed up with Conrad Murray and has issued the ex-con a Cease and Desist letter telling him to stop talking about the late pop star, RadarOnline.com is exclusively reporting.
"Your recent comments to the media about Mr. Jackson's medical treatment and ultimate death shamefully violate the physician-patient privilege under California law," attorney Howard Weitzman wrote on November 26, in the letter RadarOnline.com obtained from a source close to Murray.
Article continues below advertisement
Calling Murray "cowardly" for electing not to take the stand in his involuntary manslaughter trial, Weitzman goes on to say, "Your interviews about Mr. Jackson's personal life, health, and recent stories about the medical treatment you supposedly provided him as a 'friend,' disclose precisely the type of information that the physician-patient privilege is designed to protect."
The Estate is threatening to sue Murray if he continues to talk, and to advise any medical board where he may try to get his medical license reinstated that he's breached physician-patient privilege.
You can read the letter here: