He's The King Of The Screen! 'Entourage' Producers Courting Leonardo DiCaprio For Movie 'In A Big Way'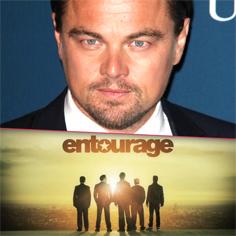 Mark Wahlberg and the producers of Entourage are pushing for Leonardo DiCaprio to have a significant role in the film adaptation of the HBO show slated to hit theaters next year, RadarOnline.com has learned.
"Leonardo DiCaprio is somebody who shied away from the TV series but always kept a door open to appearing in a film version, because of his very longstanding relationships with Kevin Connelly and Mark Wahlberg," a source told RadarOnline.com.
Article continues below advertisement
"They're going after him for this, in a big way," and "not just for a pop-in cameo, either," the source said. "They want the biggest guest stars to have some real screen time, just like on the TV show."
One key issue that might stunt the Titanic star's involvement in the highly-anticipated film is that the star is taking a break from films, following the completion of his upcoming flick, The Wolf of Wall Street.