Time Heals All Wounds? MTV Coveting Possible Lauren Conrad-Kristin Cavallari Reunion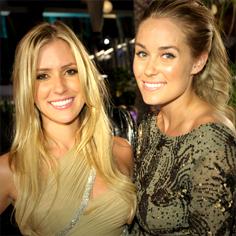 Engagements, marriages, babies.
Lots of positive life events have happened for both Lauren Conrad and Kristin Cavallari since the end of The Hills -- and with cooled tempers and egos -- MTV officials are pondering whether to reunite the divas for an out-and-out ratings grab.
"Lauren and Kristin being friends again is an event that MTV viewers will want to experience," an insider told RadarOnline.com exclusively, predicting that "only economics is going to keep a reunion from airing next year."
Article continues below advertisement
The source said that "MTV has been trying to re-establish those franchises in an interesting way for a while now but just haven't had a hook," which a reconciliation of the castmates would provide.
A show consisting of live recaps and clips, complete with a studio audience, is what the network would be aiming for, an MTV insider said.
Would you want to see a Lauren Conrad-Kristin Cavallari reunion? Sound off in the comments below.