Who's The Genius Now? Lady Gaga Upstages Kim Kardashian & Kanye West On 'SNL'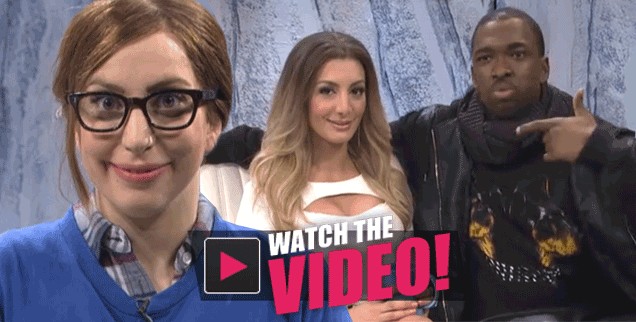 Lady Gaga knocked it out of the park as host AND musical guest on Saturday Night Live , especially when she took on none other than Kim Kardashian and Kanye West.
With SNL's great Vanessa Bayer and Jay Pharoah as Kim and Kanye, the pair hosted their show within a show, Waking Up With Kimye, where Kardashian showed off her latest creative endeavor, a necklace made from macaroni and Kanye showed off his latest creation - Kim, who he insists his now an "artiste."
Article continues below advertisement
Then they brought out their guest, "Karen," who works at the Genius Bar in the local Apple store.
Kanye/Jay immediately took exception to Karen's job description.
"You do not deserve the title of genius!" he screamed at the computer nerd, played by none other than Gaga, who completely disappeared into the role.
The conservation then turned to fashion with Karen/Gaga offering up that she thinks "people who try too hard with their outfits are maybe hiding something."
That next sound you hear is Kanye's head exploding!
You can watch the skit here!
youtube=https://www.youtube.com/watch?v=-0bT60BLYKM&w=560&h=315