Let It Rain! Khloe Kardashian Sleeps Under Scott Disick's Pile Of Singles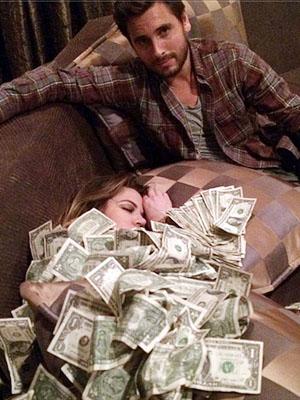 This family -- and all its' peripheral players -- always keep us guessing.
Scott Disick Thursday posted an Instagram photo of he and Khloe Kardashian -- with Khloe napping under a blanket of $1 bills -- with the caption, "Just woke up and can't sleep and missing my girl @khloekardashian."
Of course, the mercurial Disick -- who recently lost his mother -- is actually romantically involved (and has two kids with) with Khloe's older sister, Kourtney, and Khloe is still married to re-surging Lamar Odom.
Article continues below advertisement
Perhaps the girl he was talking about was his cash?