Kelly Clarkson's Heartbreak: Her 'Soulmate' Dog Dies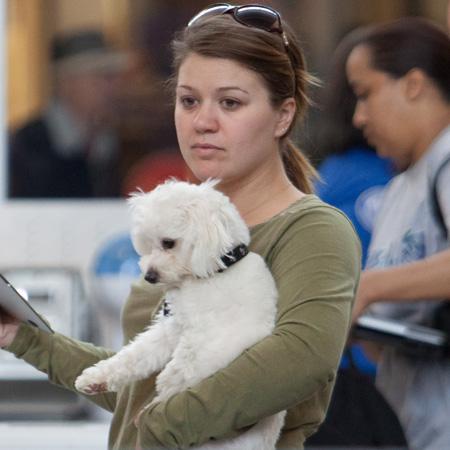 Kelly Clarkson is mourning the loss of a member of her family: her miniature labradoodle, Joplin, just passed away after a heartbreaking struggle with cancer RadarOnline.com has learned.
Clarkson broke the sad news while performing at the Hard Rock Cafe for the Musicians On Call: Nashville benefit concert on Thursday evening.
She was teary-eyed throughout the show and dedicated her final song of the night, "Stronger," to her beloved pup, GossippingPens.com first reported.
Article continues below advertisement
The newlywed had opened up about her dog's medical problems a year earlier, revealing he had been diagnosed with cancer.
"I'm just gonna say it... he's my soulmate," Clarkson wrote on Twitter, posting an adorable photo of her with the pup.
Her new husband Brandon Blackstock, didn't seem to appreciate the tweet his wife sent.
"Bulls**t," he wrote, adding a smiley face to reveal he was just joking.
The diss must not have stung too bad, as Clarkson revealed the newlyweds are very happy and are spending all their spare time in bed to get pregnant as soon as possible.
Speaking on The Tonight Show With Jay Leno on Monday, Kelly said: "We want a baby now! Practice makes perfect! We're trying, trying, trying … Like rabbits!"
The former American Idol winner says becoming a step-mother to Brandon's children from a previous relationship – Savannah, 11, and Seth, seven – has made her more maternal than ever.
She said: "We have two kids. And they're so great. And I never wanted kids before, but now I want, like, five."