Kim's Family Is The Best! Kanye West Brags About The Kardashians, Says They Make America Better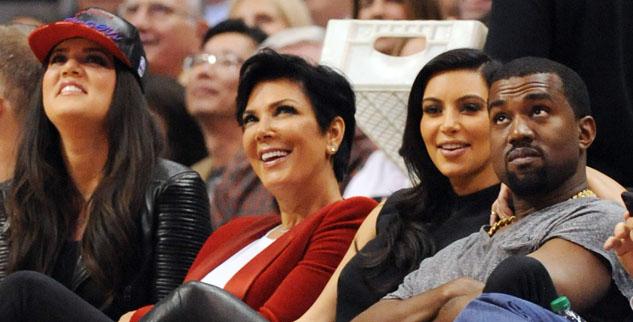 Kanye West's tour of awesome revelations is continuing, and this time he isn't slamming the President of the United States, or saying that he's the greatest rock star in the world, but he's singing the praises of his future in-laws saying that the Kardashians don't get enough credit for the good they do for America.
The Yeezus rapper discussed his music and his fashion with Washington, D.C.'s 95.5 WPGC (a Radio.com station) on Monday and that's where he dropped the bombshell that he believes his fiancée Kim Kardashian's family is changing how people look at interracial relationships.
Article continues below advertisement
"A lot of what the Kardshians do,I don't think they get enough credit for what they do. They prep America to accept interracial relationships," he said about the family he's marrying into. Kim's sister Khloe Karsdashian is married to Lamar Odom, an African-American, and her younger sisters have dated African-American men as well.
"I'm not talking about me, I can hope on a plane. I can date a white woman, I can date a black woman, and no matter what they say in the barber shop don't matter, because I don't get my haircut there," he said and laughed.
"For the people that do, though, there's a white woman that's getting talked down to by her friends because she's dating a black guy. Now you've got a point of reference, that you can say, 'Well, actually this couple right here, that's dope.'"
He spoke a few times about his daughter, North West, and said that all of his business decisions he makes with her in mind.
"One of the reasons I left Nike. They did offered me a deal for Yeezy after seven years of power but there was no royalty connected to it. I can't look my daughter in the eyes and say I'm giving the best years of my life in creativity and I see nothing from it.