The Million Smoothie (Or Juice) Giveaway! How About A Free One?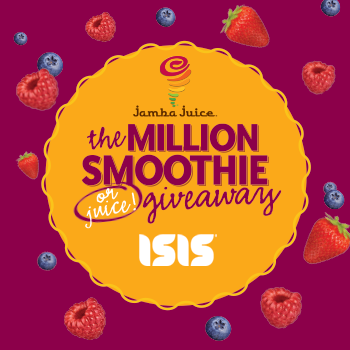 In the mood for a smoothie? How about a free one?
Treat yourself to good nutrition by stopping by a Jamba Juice for a free drink this month. All you need to do is download the ISIS Mobile Wallet® app on your smartphone and then use the app to redeem your small smoothie or 12 oz. juice at checkout. It's really that simple.
The hardest thing you'll have to do is pick a blend (but we can help you there.)
Article continues below advertisement
1. Get a secure SIM card and an Isis Ready phone from AT&T, Verizon Wireless, or T-Mobile. Then download and install the Isis Mobile Wallet app. To see if your phone is Isis Ready, click here.
2. Visit a participating Jamba Juice location and choose a drink of your choice. Good luck—there are a lot of options!
3. Launch the app, and enter your PIN, and select the offer in the Wallet. Then just hold your phone against the credit card terminal at checkout. See? Easy!
Subject to Isis Terms of Service, available at paywithisis.com. Offer available to Isis Mobile Wallet users with an established Isis Account. Offer expires earlier of April 30, 2014 or until one million free drinks redeemed by Isis users. Offer is valid for any small smoothie or 12oz. juice at participating locations. Boosts and other menu selections are not included but may be purchased at the listed menu price. May not be combined with any other offer or discount. No cash, credit or reimbursement will be provided. Jamba Juice employees are not eligible for participation. Isis, Isis Mobile Wallet and the associated logos are property of JVL Ventures, LLC. Symbol property of EMVCo, LLC. ©2013 JVL Ventures, LLC and ©2013 Jamba Juice Company