Exclusive
Farrah Abraham Cast In VH1's 'Couple's Therapy' — Even Though She's Single! Show Focusing 'On Why Her Relationships Fail'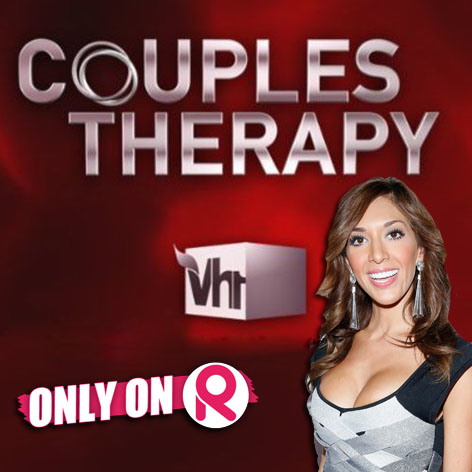 Article continues below advertisement
According to an insider, Abraham, 22, has already been filming with VH1 and instead of focusing on a current relationship, the former Teen Mom's therapy will focus on what she's doing wrong in her relationships.
"Farrah is definitely appearing on the next season of VH1's Couples Therapy. She was desperate to be on it last season, but since she couldn't get anyone to go on it with her, Catelynn Lowell and Tyler Baltierra from Teen Mom were cast instead," the source confirmed.
"Well, she still can't find anyone to go on the show with her so they are allowing her to appear solo! Basically they are going to bring people from her past — family, friends, ex-boyfriends — to help her understand why she can't make any of her relationships work and they fail."
Abraham has made it no secret that she's shooting a show, often writing on her Twitter account how busy she is:
And just last weekend Abraham's parents and 4-year-old daughter Sophia were in Los Angeles to tape segments on the show, the source tells RadarOnline.com.
Article continues below advertisement
"The show also brought in a few people from the past that Farrah has dated," the insider revealed.
As RadarOnline.com exclusively reported earlier this year, Abraham was so desperate to get on last season of the VH1 show that she even tried to recruit a "fake boyfriend" to go on the show with her.
Text messages verified by RadarOnline.com showed a conversation between Abraham and pal Carson Underwood in February 2013 in which she asks him what his sexual orientation is and once he says straight, she presents the Couples Therapy idea to him and has him contact her publicist.
"Farrah and Carson met at an American Music Awards after party last year and stayed in touch," a source previously told RadarOnline.com.
"She sent him a confidentiality agreement and it had all these clauses about how he would just be 'work for hire.' He was never really interested in Farrah, and certainly not interested in faking a relationship with her."
Filming for Abraham's current season of Couples Therapy has already started filming and the show is expected to air in early 2014.