Exclusive
Odd Man Out! Charlie Sheen Hasn't Seen Twin Sons In Three Weeks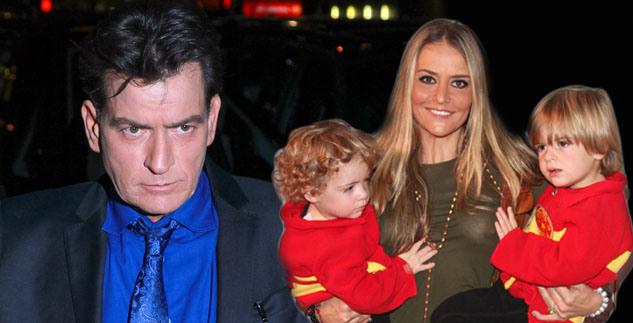 Charlie Sheen hasn't seen his twin sons with ex-wife Brooke Mueller since child protective services removed Denise Richards as the supervised monitor for those visits, RadarOnline.com is exclusively reporting.
Richards had been named temporary guardian of Bob and Max, 4, after Mueller overdosed in May, was placed on an involuntary psych hold, and went back to rehab.
The Anger Management star "is absolutely frustrated and saddened that he has been unable to see Bob and Max. Adding insult to injury, the boys are literally living around the block from Charlie's house -- that he bought for Brooke! It must be so confusing for the boys to have been seeing their father every day when living with Denise, to not seeing them at all," a source told Radar.
Article continues below advertisement
"It breaks Charlie's heart. Say what you want about Charlie being a Hollywood bad boy, but he loves all of his children, and enjoys spending time with them. Believe it or not, Charlie is actually strict with the kids. He doesn't allow fighting, enforces bedtime, and eating nutritious foods. It's really amazing to witness, and not many people have seen that side of Charlie."
November 1 was the last time Sheen saw the twins.
According to a letter Richards wrote to the Los Angeles County Department Of Children & Family Services, obtained exclusively first by Radar, the actress revealed her confusion about being stripped as the monitor for Sheen's visits with the boys.
"As you know Friday evening I received a call from the department that I could no longer monitor the father's visits with the boys. The reason I was given was because of recent media. The department has previously been supportive of the boy's relationship with their father and also felt it was a good idea when he and I made the decision for the children and me to move close to him," she wrote in the letter.
Article continues below advertisement
"As you have been made aware, it was previously very difficult to impossible for him to have a relationship with his sons while they were in the care of their mother. The last 7 months Charlie has been able to go to their school, while he was previously allowed by their mom."
Sheen recently reached a truce with DCFS. The actor previously labeled the organization as "incompetent and lascivious" finally "recognized that if he wants to spend time with the boys, he'll need to cooperate with child protective services," the source previously told us.
The bitter battle for custody of his twins with Mueller took a twist when her brother was granted temporary guardianship after Richards, 42, asked DCFS to remove the boys from her care because of ongoing violent and unpredictable behavior.
The boys "will absolutely know their father, and spend as much time with Charlie as possible. He won't stop fighting for the boys, ever," the insider added.