A Little Late? Charlie Sheen Tells Former Boss Chuck Lorre He Wants To Apologize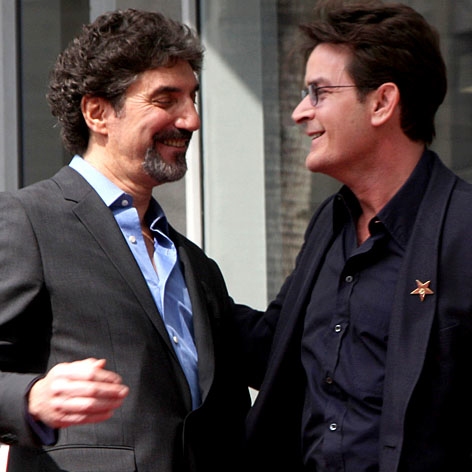 From the better late than never file.....
Two and a half years after he was fired from Two and a Half Men, Charlie Sheen is saying he wants to apologize to his former boss, Chuck Lorre, writing on Sunday afternoon:
"hey Chuck. I have an idea that u need to hear after I make amends to you and yours. which I will do in person. xox c"
What exactly his "idea" is, Sheen is keeping to himself but Lorre runs a literal sitcom machine. He created and produces Two and a Half Men, The Big Bang Theory, Mike & Molly, and Mom, as well as writing many of their episodes.
Article continues below advertisement
Sheen's mea culpa-to-be comes just two days after he went on an epic rant against the folks from Los Angeles County Department of Children and Family Services and the judge who decided that his kids with ex-wife, Brooke Mueller, could again live in the same house with their mother, while her brother, Scott Mueller, functions as their temporary guardian.
Sheen was on radio silence for close to 48 hours after his last tirade against the judge who issued the guardianship order before he tweeted the curious message to Lorre.
Sheen's Anger Management has not exactly been a huge hit for FX, with viewership often below one million.
Is he such damaged goods Lorre would ever want to work with him again? What do you think? Tell us in comments.