Brooke Mueller Reunited With Twin Sons After Charlie Sheen's Ex Gives Up Guardianship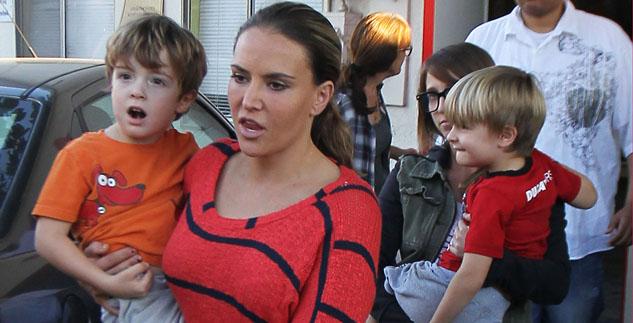 Article continues below advertisement
As previously reported, the judge felt it was important to keep the boys in the same school they attend so instead of moving them with Scott to his home of Orange County, he and the boys will be moving into Mueller's home.
And while Scott has agreed to care for the boys -- it's not without wanting something in return.
As RadarOnline.com previously reported, Scott is requesting a whopping $55,000 per month in child support payments from Sheen, which previous guardian, Denise Richards, opted not to take from the former Two And A Half Men star.
"He expects to be paid, immediately, even though Charlie already pays for all of the boys expenses including their pre-school, doctors visits, etc," the insider told RadarOnline.com.
"During the time that Denise was their guardian, she didn't ask Charlie for one dime in child support, she actually turned it down."
The source added, "Furthermore, Scott has NEVER taken care of the boys for more than 48 hours. He lives in Orange County and has no experience in taking care of kids."
Article continues below advertisement
Richards wrote a heartbreaking letter to the Los Angeles Dept. of Children and Family Services explaining why she no longer felt like she could care for the the boys, and detailed a shocking collection of violent behavior by Bob and Max.
According to Richards, her daughters had been "strangled, kicked in the head and stomach, scratched, bit, slapped, punched in the face and head" and spat on by the boys, as have the family dogs.