Brooke Mueller Reunited With Sons, Goes Hiking With The Twins & Her Brother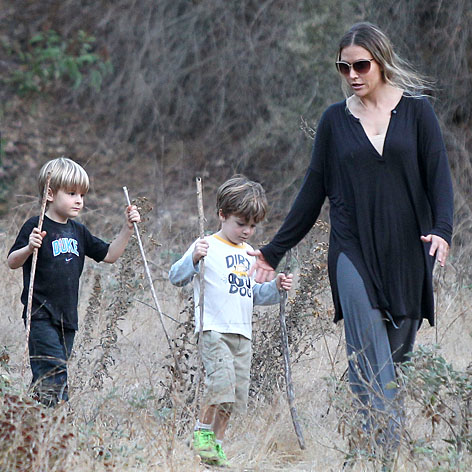 Brooke Mueller took her sons on a hike through the California hills Friday, and it was almost as if the last years of rehab stints , drug addiction, divorce and custody battles hadn't happened.....until you saw the other people with them.
Brooke's brother, Scott Mueller, is now the court-appointed temporary guardian for her sons, Bob and Max Sheen, and thanks to a ruling that can only be described as unusual -- dad Charlie Sheen used more choice words -- they are living with Brooke in her house!
Article continues below advertisement
Scott was along with his sister and nephews for the hike. So were two unidentified men. One is believed to be a bodyguard; the other, a monitor from the Los Angeles County Department of Children and Family Services, the agency charged with supervising the boys' welfare.
Brooke wore sweat pants and an over-sized black top for the hike, her hair casually pulled back from her face. She had the same ensemble on earlier in the day when she and Scott wee spotted strolling in Hollywood.
The troubled starlet is being periodically tested for drugs and she'll need to meet a number of court requirements to continue having contact with her sons.