Exclusive
'Broke' Tori Spelling Goes On Monster Shopping Spree With Kids, Puts Outfit Together For 5-Year-Old's Chanel Purse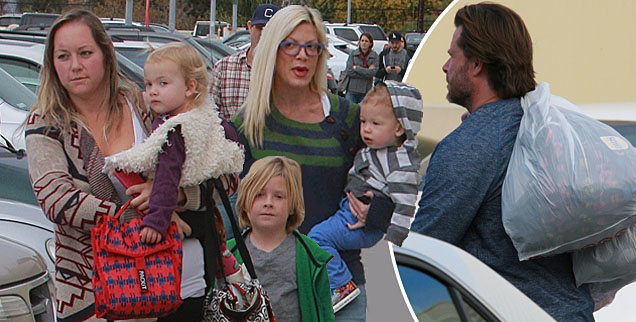 Tori Spelling's idea of being "broke" is possibly a bit different than most people's or has the former reality star had a reversal of fortune?
Either way, Spelling was financially confident enough to take her four kids out for a huge shopping excursion, and RadarOnline.com has all the exclusive details.
With a nanny along for help, Spelling first took Liam, 6, Stella , 5, Hattie , 2, and Finn, 1, to Target.
Article continues below advertisement
There she purchased some of Gwen Stefani's children's line, Harajuku Mini for Target, for adorable Stella.
"Stella, you layer these pieces see? Look, the leggings, the skirt, this camisole, this on top, with your boots, and you can wear your cute little Chanel purse," the doting mom said.
Chanel purse? For a five-year-old? It seems Spelling has some hold-overs from her bigger-spending days in her kids' closets.
Spelling did show some of her new attempt at shopping restraint when she looked at some clothes with Liam.
Holding up selections for him to choose from -- and looking much more excited than any of her kids -- Spelling shared some shopping advice.
"Do you like this? Yes or no?" she asked Liam about one outfit and when she responded it was just "okay," Tori said, "Well, that doesn't sound like you're going to wear it so we're not going to get it."
Article continues below advertisement
After exhausting the selection in Target, the gang then moved on to Gap Kids and Baby Gap.
By the time they were done, Spelling had to call in the troops!
Husband Dean McDermott, who had been separately running errands in the same mall, met up with his wife and kids, to lug several bags bulging with purchases back to their car.
In her new book, Spelling revealed how she had gotten herself in "serious debt."
There's her background as a super rich girl, her "real estate compulsion," and her "little shopping problem. I bought ridiculous amounts of stuff for the kids: clothing, toys, crafts."
Seems like some things never change.