Who'd Have Thought? Brandi Glanville Promotes Ex-Eddie Cibrian's New Movie: 'The More Money He Makes, The Bigger My Check Is!'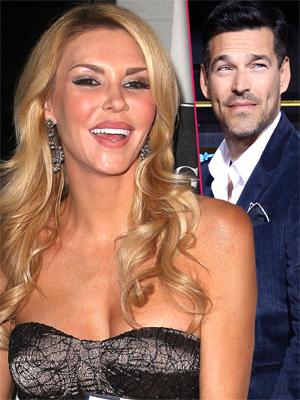 Friends of foes? Brandi Glanville gushed about her ex-husband Eddie Cibrian during the latest installment of her Unfiltered podcast, but for reasons you wouldn't think.
The Real Housewives of Beverly Hills star surprised fans when she promoted Cibrian's new movie, Best Man Holiday.
"Go see it people," she said, before returning to her brash behavior. "Because the more money he makes, the bigger my check is!"
Article continues below advertisement
Despite the jab, Glanville continued to talk about her ex-husband, admitting she still thinks he's hot.
"My ex-husband was on as a guest on Late Night With Jimmy Kimmel and he did look quite handsome," the mother-of-two said.
"I bred well. My kids are really cute," Glanville added, referring to their two children Mason, 10, and Jake, 6.
The flattery soon ended, however, when the notorious 90210 party girl praising the late night host for one of his jabs during the television interview.
During the show, Cibrian noted, "Some people are just meant to create drama and capitalize on it," to which Kimmel retorted, "And you happened to have married both of them," referring to Glanville and current wife LeAnn Rimes.
"I thought that was so amazing," Glanville laughed.
Glanville, who has publically feuded with her ex-husband and his current wife, also noted that she only tuned in to see what Cibrian would say about her.
"I'm narcissistic," she mused.
Watch Cibrian on Late Night With Jimmy Kimmel, below:
youtube=https://www.youtube.com/watch?v=DHTf8mFExNE&w=560&h=315