They're Back! Controversial 'Kitchen Nightmares' Couple Return To Television -- With Dr. Phil!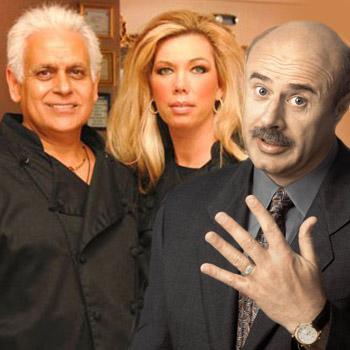 Article continues below advertisement
"The Bouzaglos are desperate to 'clear their name' and Dr. Phil's producers have been hounding them for quite some time to appear," a source close to the show told RadarOnline.com.
"They are claiming they are victims, that they are good people, and that they are the polar opposites of what was shown on TV."
But while the Bouzaglos may think they're appearing on the show to have a platform to clear their name, what they may not know is that the show's producers tried to have guests appear with them on the show that directly conflict the Scottsdale, Ariz. restaurant owners.
"I did some posts about their Kitchen Nightmares show, Amy's conviction history, legal docs, Samy's past house deals in Las Vegas, etc. Then Amy looked at my LinkedIn profile. Several months pass, and I get an email from Dr. Phil show producers that seem eager to have me fly to LA to be on the show," one person who was contacted exclusively told RadarOnline.com.
"They mentioned things like they don't ambush people, etc. They just kept saying they wanted to have a 'discussion,' but I was attempting to understand how they would spin the show because I was worried that they might not be upfront with me."
Article continues below advertisement
As RadarOnline.com previously reported, the Bouzaglos feel like they "re-invented reality TV" and have been actively looking for an outlet to air their side of the story.
"We have to clear our name now…we can't continue like this with the amount of hate that's out there. The reality show is a work in progress. We will have the reality show, we're trying to decide now which direction we're gonna take it," Amy said.
"We kind of re-invented reality TV, because all of the producers that reached out to us said, 'You guys are TV gold because you were real!'"
The person contacted by the Dr. Phil Show, who declined to appear, told RadarOnline.com: "They were not being entirely descriptive about their intentions for spinning the show, which made me uncomfortable."
Will you tune in to watch Amy and Samy's appearance? Sound off below…