'We Re-Invented Reality TV': Self-Proclaimed 'TV Gold' Amy's Baking Company Owners Make Stunning Claim, Reveal Plans For Their Own Show Have Fallen Through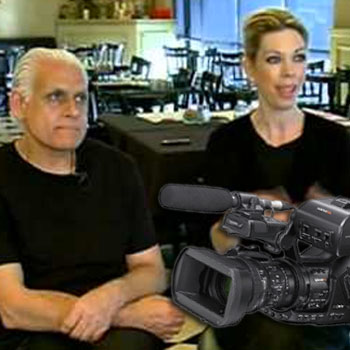 Article continues below advertisement
"After the show came out we were approached by a lot of really professional production companies from all over the world; from England to Hollywood to New York City, and we were very humbled by those offers and we have an agent in Hollywood and we ended up going with a very strong production company, it's Irwin Entertainment," Amy divulged.
"My husband and I are in a really big hurry to get on the air because we need to clear our name. This has never been about money for us, this has been about clearing our name."
But the opinionated couple hit a road block when the production company had to schedule filming of a different show ahead of theirs — which didn't sit right with the Bouzaglos.
"For the last four months we have been working in development with them, however, they are just now shooting a show that they were in development with over a year ago, and so an event happened last week where my husband and I decided in our best interest, and in all fairness to Irwin Production, that we canceled the contract with them and we are currently not under contract with any production company," Amy said.
Article continues below advertisement
MORE ON:
Amy's Baking Company
The Bouzaglos Scottsdale, Ariz. restaurant is still open and doing well, they say, but as RadarOnline.com reported last week, they claim Yelp is trying to destroy their business.
"We have proof from Yelp, we have physical proof from Yelp, threatening to take our business down if we do not pay them for advertising dollars," Amy said.
"They have something on Yelp called the 'filtered reviews.' We have lots, hundreds, of beautiful five-star reviews that are from real customers that have come in, that have taken pictures of the food…and their reviews are filtered because Yelp has something that they call an algorithm, where for whatever reason they want to, they'll filter a review," Amy claims.
Article continues below advertisement
"If a person has never written a review on Yelp before it can be flagged because that person can't be real. It's a problem and it's something that we're working on."
However, Yelp told RadarOnline.com: "These claims are untrue and alleging that Yelp is the root of this business' problems is simply crazy."
And regarding their appearance on Ramsay's show, the couple says they learned an important life lesson from it.
"We're trying to decide what's the best direction for us, for our life, for the well-being of our kitty cats, for our business, and we don't want to make any further mistakes. We feel that Kitchen Nightmares, it was a learning lesson, a very, very important lesson," she concluded.
"We learned our lesson from them and we take every lesson that is given to us and we try to use it to make a better, stronger character of person."
RadarOnline.com reached out to Irwin Entertainment for comment but got no response.